Shamalie Heiyantuduwa - 2021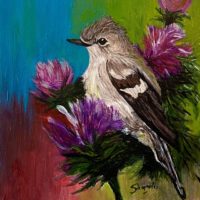 Shamalie is a well traveled Artist originally from Asia.She comes from a very beautiful and a luxurious country full of history, beautiful scenery with luscious colours, known as the Pearl of Indian Ocean: Sri Lanka.
She is an Artist who has lived in Maldives, Bahrain and now in the United Kingdom.
She has sold several art pieces in these countries. She has traveled to many beautiful Asian countries like India, Thailand, Singapore and China and adapted to use vibrant colours to her creations inspired by the splendorous heritages and warm colours these Asian countries embrace without fear to showcase their culture.
Shamalie was a banker for 15 years and gave up her career to become a full time mother in 2004 and began to travel because of her husband's work as an Aircraft Engineer. This opportunity gave her to travel and embrace beauty and vibrant colours enriched in Asian cultures to adapt in her paintings. She began her career as an artist recently after settling down in the United Kingdom and started to continue with her favourite hobby of painting that has been her best since her younger days whilst she was travelling to those beautiful places in Asia.
Sri Lanka is a very popular tourist destination and she has done several paintings to promote her country in the Europe with elephant safari rides, beautiful sandy beaches and famous Sri Lankan upcountry train rides.
Her talent has showcased with portraits, abstract and contemporary art. She has done several commissioned work in the UK and to USA, also for pet lovers with their beloved and well loved pets.
She runs a very small on line business under 'Shams Art and Craft' selling her paintings, hand painted T-shirts as well as crochet and knitted garments. She has made beautiful crocheted ponchos and has sold them in the UK and to USA, Canada and China. Her crocheted appliqué T-shirts had been a hit during summer due to uniqueness of her work. Hence, you can call her an Artist with many talents.