Sarah Gidden - 2022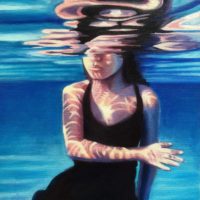 After graduation from The University of Southampton with a 2:1 degree in Fine Art, Sarah Gidden trained as a teacher of Art. She has taught primary and secondary children and adults since 2001.

Sarah started to paint again in 2018 after a career break in which she became a mother. She painted large oil paintings of her children swimming which she exhibited in a solo show in 2021.

Her paintings are realistic but have a sense of abstraction through her expressive brushstrokes. She enjoys painting figures underwater, swimming and at the beach. Sarah loves how the water adds colour, refractions of light and reflections on the portraits.

Sarah is a member of The Herts Visual Arts group and has exhibited in galleries in St Albans including The St Albans Museum and Gallery.