Karin Friedli - 2022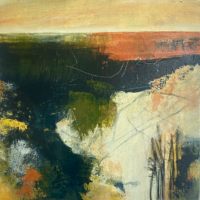 Karin paints in response to her daily walks with her dog, in the British countryside, interpreting the landscape in an emotional rather than representational way. She is moved by the way light falls on land, by the vastness and lines created by open spaces, the changing seasons and how weather transforms the mood of a place. This provides her visual stimulation, which she translates into paintings through energetic and intuitive mark making exploring the sense of place in a moment in time.

Nature and being in the open are important to her. Her paintings explore the connection between the transcendency of nature with a feeling of freedom, tranquillity, and inner peace. Her recent work has been influenced by the Covid pandemic, through the realisation that time spent in the landscape and away from daily distractions provides a solace. She hopes to make a connection with the viewer that touches this emotional space making sense of what it is to be human, reflecting on our struggles and how through quiet contemplation we can achieve a sense of calm.

Her approach to her paintings is experimental. She relishes the visceral engagement of the surfaces of her paintings by getting her hands dirty. Using mixed media on canvas, board or paper, she expresses her emotions and feelings to the landscape by using strong value contrasts, variations in texture, fluctuating amounts of detail, and free mark making. She abstracts forms, lines and textures from photographs, sketches and visual memory and applies marks loosely and economically, creating textures through splattering and scraping paint. Through multiple layers, the rawness of the landscape is revealed and what lies beneath. Her colours are muted reflecting earth tones with small jewels of saturated colour reflecting the light and mood of the place. She works on her paintings until she is satisfied she has created a painting that resonates a sense of serenity and solace.