Edward Walsby - 2021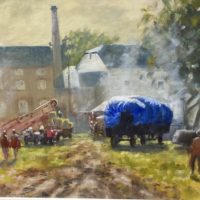 Edward always had an interest in painting and had a go at it, from time to time, during his working life, attending some evening classes for a while. He now spends more time painting since early retirement in 2002 from working as a technician/engineer. He has attended some weekend workshops since that time but considers himself largely self taught having had no formal training at art school, etc.

Edward will have a go at landscapes, local scenes, anything that takes his fancy on the day and painting outside on the spot weather permitting. He has been a member of Hertford Art Society and Stevenage Art Society for more years than he cares to remember, exhibiting at their exhibitions, plus some other local shows including Stapleford and Ayot.