Beverley Sweetman - 2022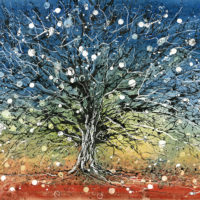 Beverley trained as a graphic designer and illustrator; and is now a full-time artist drawing most of her inspiration from the greatest designer of them all: Mother Nature.

The observational study of wildlife, animals and the natural world is her motivation to create highly detailed pieces of work in a variety of mediums: Watercolour, Walnut Ink, Acrylic and Mosaic.

She loves to study the shape and form of the creatures in the animal kingdom, exploring nature's complex shapes, rhythms and patterns. Sometimes this takes an abstract form in her mosaic work, other painted works are complex and detailed illustrations of wildlife, farm animals, birds, fish and insects.

She uses nature's kaleidoscope of vibrant colours and textures, and pays close attention to detail allowing her to produce artwork in celebration of the natural world.